Lawson Commercial is very pleased to be supporting the Uckfield & District Preservation Society with their Exhibition 'A History of Uckfield High Street'. The Exhibition is to be held at Bridge Cottage from 24th March to 7th April.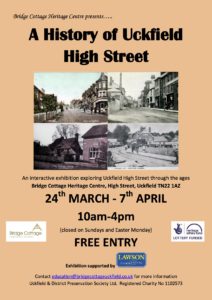 We ourselves have been trading in Uckfield for some 30 years and during that time we have built up quite a large portfolio of High Street shops that we have marketed through that period. It is very interesting going back and looking at some of the old photos on our files and seeing the changes to the High Street over that time.
We are pleased to support the Exhibition and have supplied a number of photos which we hope will be of interest to visitors.