Lawson Commercial partner Chris Lawson has recently been elected as President of Uckfield Chamber of Commerce, a position he last held back in 1991, 1994 and 1996.
Commercial agent and surveyor Chris, who has been in the property business for 44 years and commercial property for 40 years, is this year celebrating 30 years of running his own business. In the 1990s times were very different for businesses with the big Recession in progress and before the days of the Internet and emails.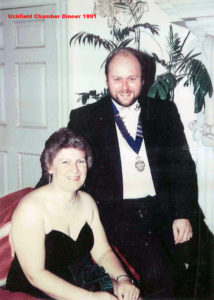 The Chamber is today a lively bustling group of just under 200 members and extremely active in the local community. Uckfield businesses in the 21st Century have different pressures to those back in the 1990s. However Chris passionately believes that a strong business voice continues to be very important if Uckfield is to further prosper and grow particularly with the restricted planning policies in place which are curtailing not only residential but also commercial development.  The Chamber, he says, needs to work hard to persuade those setting policies that they need to adopt a more flexible attitude. The Chamber also needs to maintain support for our High Street where the march of online retailing continues to have a major impact throughout the UK.
The Chamber has good team of 10 plus on its Executive Committee and Chris is ably supported by  Vice Presidents Gary King of Uckfield FM and Angela O'Neill of Uckfield Matters.
Chris talked on Uckfield FM earlier this week about the Chamber and his new role and you can listen to his interview: