Lawson Commercial partners Chris and Julia Lawson were very pleased to be invited to the official opening of Gunnebo Entrance Controls new UK Headquarters at The Gatehouse on the Ashdown Business Park in Maresfield.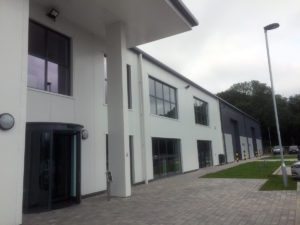 Gunnebo's CEO and President Henrik Lange together with Vice President Robert Hermans welcomed a number of guests to the official launch. The ribbon was cut by former Wealden MP Charles Hendry. There then followed a tour of this superb new facility.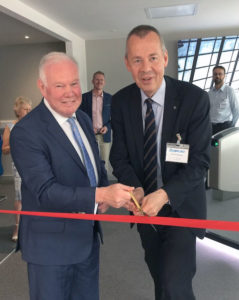 The Gunnebo Group is based in Sweden and employs over 5,000 people worldwide. Its UK subsidiary Gunnebo Entrance Controls has been based in Uckfield for some 30 years and has relocated its headquarters from the Bellbrook Business Park to this smart, prestigious new building which is to be the centre for research and development for the entry control division. It will be a fantastic location to hold customer meetings and seminars as well as for employees working in sales, customer support and technical training.
We were very pleased to have been able to play an important role  in bringing this project to a successful conclusion although it has taken several years to reach this point. When Robert Hermanns came to us originally looking for alternative premises it was always going to be a difficult problem to solve as there were so few buildings available of a suitable size. We worked with the landowner Summerthorne Estates and architect Mike Barber of MJB Architecture to create what we see today.
The new facility is a great asset to the Ashdown Business Park and will no doubt be a major factor in the future growth of Gunnebo who are an important and significant employer in the Uckfield area.