Carpet retailer Sebastian Bishop, who trades as Fluffy Side Up and is known locally as Mr Fluffy, is opening a shop in Uckfield High Street.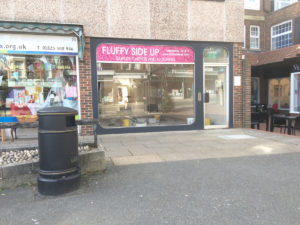 His famous sheep used to spend may happy hours attracting attention on the turf outside his former premises in Bell Lane and are now going to be based in the High Street where they will be welcoming all customers. In the better weather they may indeed make an appearance in front of the shop no doubt looking to see what they can filch to eat from customers sitting outside Hartfields next door.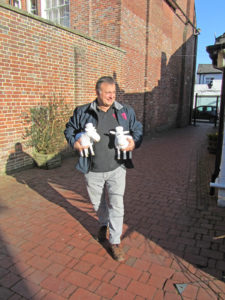 We are delighted to have attracted Mr Fluffy and his sheep from their warehouse at Squires Farm to 75 High Street, the former Cuckoo Wine Bar premises. Fitting out is in progress and Fluffy Side Up hopes to be open for business in the next few days.
The sheep have been a very successful part of the marketing strategy for Fluffy Side Up and will, along with Sebastian,  greatly add to the attractiveness of "Town Square".