Lawson Commercial have sold the former Mower Services premises in Croft Road, Crowborough just at the junction with Church Road to The Fireplace Company. The building was known for many years as a successful garden machinery retail shop and workshop and had in addition a part covered yard and offices, some 3,000 sq ft in total.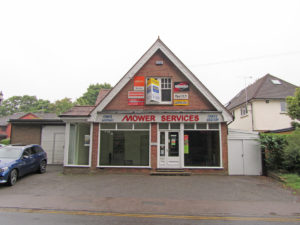 For quite some time we had the property under offer as a letting to a vet who was going to expand and it was a bit of a surprise when they didn't get planning consent for the necessary change of use. At that point the owner decided he would rather sell the freehold and we are very pleased to have found a local owner occupier to acquire the premises for their new workshop and showrooms. There was huge interest in the property from not only owner occupiers but also residential developers. We ended up going to best offers.
Although the property was sold for less than the asking price there was still strong competition for it. It is good that a local business already established has been able to expand and acquire their own freehold premises.