Lawson Commercial partners Chris and Julia Lawson were pleased to support Councillor Greg Rose, Mayor of Crowborough for his Charity Lunch at Crowborough Beacon Golf Club yesterday.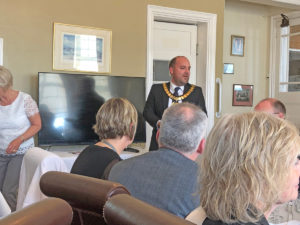 The lunch was organised to raise funds for one of the Mayor's chosen charities Acorns for Cancer Research UK.  The lunch was followed by a talk from Dr Melanie Flint of the Cancer Research Unit at the University of Brighton who gave some interesting insights into the effects of stress on cancer treatment which is one of the fields she is working on as well as developments in immunotherapy.
Cancer Research UK is a very worthy cause and one that we have often supported in the past. The talk was followed by a Raffle with some very good prizes where we were lucky enough to win a meal voucher. The event raised, we understand, in excess of £1,400.